The World Bank has announced the elevation of Guyana's status to a high-income country, a milestone in the South American nation's economic journey. This update comes along with several other countries having their statuses adjusted in the latest annual review, based on last year's economic performance.
The World Bank Group categorises global economies into four income groups – low, lower-middle, upper-middle, and high. The group updates these classifications every year on July 1, based on the Gross National Income (GNI) per capita from the previous calendar year. The GNI measures are expressed in US dollars using conversion factors derived using the Atlas method, introduced in 1989. The income classification seeks to reflect a country's level of development using Atlas GNI per capita as an indicator of economic capacity.
Guyana's remarkable economic story is fuelled by large volumes of oil found off of its coast. In the eight years since US oil major ExxonMobil made the first discovery at Stabroek Block, a total of five developments have been approved – Liza 1, Liza 2, Payara, Yellowtail and Uaru. Two are producing oil, one will come on stream before year-end and two more are under development.
And just as oil production led the Bank to classify Guyana as a high-income economy this year, the Bank had moved Guyana up into the upper middle-income classification when it did its assessment in 2016, one year after the first oil find.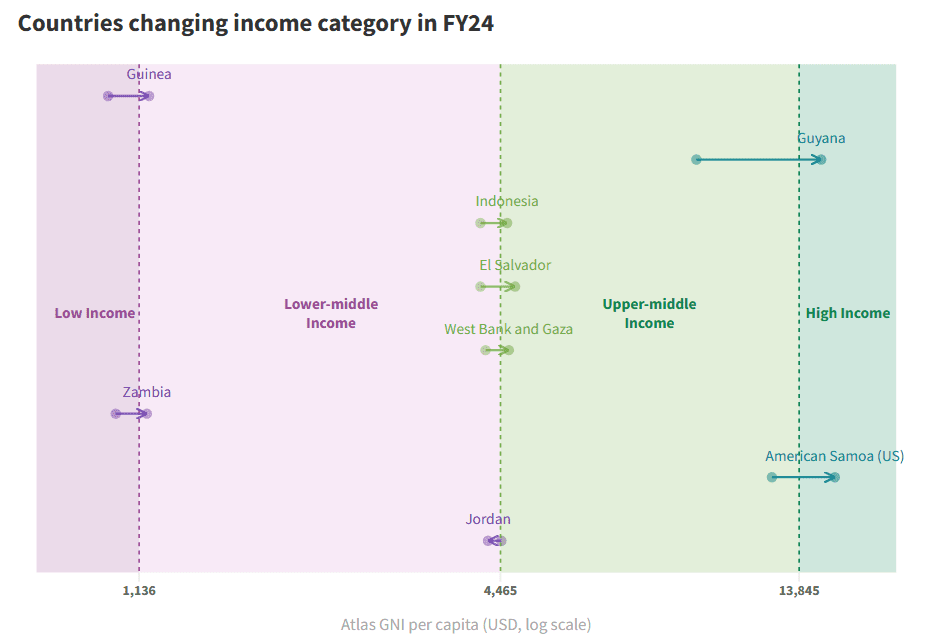 Guyana and American Samoa were the new entrants to the high-income category this year, up from the upper-middle income category. The Bank noted that the large increase in Guyana's Atlas GNI per capita was primarily driven by a surge in the production of oil and gas, which more than doubled in 2022. This nominal increase was further amplified by higher oil and gas prices.
Ali expects US$10 billion in annual inflows to Guyana oil fund by 2030 | OilNOW
The Bank said that despite a substantial increase in outflows of primary income abroad, Guyana's nominal GNI saw an impressive jump of 86.2%, leading to a 60.0% increase in Atlas GNI per capita.
Based on Atlas GNI per capita, Guyana is at 67th place out of 196 ranked economies, peered with Seychelles, Romania, and Bulgaria. Guyana's GNI per capita, by purchasing power, is also ranking highly at 51st place out of 193 economies.
Guyana's gross domestic product (GDP) per capita had grown 62.3% in 2022, the highest growth rate experienced by this country in its history. This was on account of its oil economy growing 124.8%. The country is expected to continue to surge in global rankings, with the International Monetary Fund (IMF) expecting 37.2% growth in 2023. This will be fueled once again by growth in oil production, expected to total more than 135 million barrels for the year.
However, despite the World Bank's assessment, there remains room for improvement of living standards for most Guyanese. Concerns have been mounting about the rising cost of living which, in part, is itself fuelled by the rapidly expanding oil sector. Government has said it continues to take measures to alleviate rising consumer costs and intends to ensure the benefits from massive oil revenues, reach the masses.